Have you been scouring the internet looking for a color certification course?  Then I'm happy to tell you your search is officially over.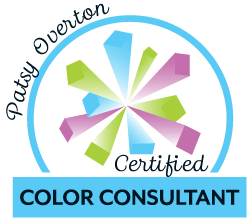 After years of experience working as a professional color consultant, decorator, home stager and redesigner and with well over 1,000 color consultations under her belt, Patsy is uniquely qualified to offer her very own training certification.  In addition, as of 2016 she is an approved trainer through the Association of Design Education.  If you have the desire to work as a professional or simply want to increase your knowledge for your own personal use, Patsy's Certified Color Consultant course is for you!
"After two days of intensive training, I want you to know your class on color exceeded my expectations!  It was extremely informative to learn how the new Sherwin-Williams fan deck relates to the color wheel and how to use it when selecting colors.  Not only did we do a deep dive into the Sherwin-Williams and Benjamin Moore fan decks, but you offered on-site interior and exterior color consultations with two of your clients in order to gain a better understanding of the process – invaluable!  Last, but not least, you generously shared your knowledge and experience in starting up a color consulting business as well as your personal files, forms and procedures – a true 'nuts and bolts' course!
I am so pleased with the training I received!  It was a wonderful investment, and I am so grateful for the opportunity to have taken your class.  Color me thrilled!"  Alice Gucwa, Color Consultant & Home Stager

Are you a Designer who needs a higher Color IQ?
Are you a Realtor or Home Stager who needs to specify paint colors for your clients who are selling?
Have you taken other Color courses but still lack the "nuts & bolts" training?
Do you need help determining how colors will read when the paint goes up?
Are you tired of your corporate job and want to do something creative?
Are you remodeling your home and want to avoid making costly mistakes?
Do you have color skills but lack the knowledge of how to parlay them into a business?
Do you want to add new services to your existing business?
Then we are here for you.
2019 Training Schedule for 3-day Certified Color Consultant Course
January 29-31
March 26-28
April 30 – May 2
June 25-27
September 10-12***
November 12-14
***Sign up by Saturday, 8/31/19 to get a 25% discount!!!!
Classes are taught in Atlanta, GA near I-400 and Holcomb Bridge Rd.
This certification course is now three days.  Why?  We just couldn't fit all the necessary training into two days.  It comes down to the basics of learning the color wheel and the fan decks.  Then the training exercises cement the basic training.  We perform two color consultations with real clients — one interior and one exterior — and have been told repeatedly that they are invaluable!  There is no way to include all of this priceless training in two days.
3-Day Color class agenda:
The Psychology of Color
The Science of Color – Isaac Newton and the Color Wheel
Decoding the Sherwin-Williams fan deck
The Nuances of Neutrals
Which White?
Exercises in color matching fabrics and flooring
Exercises in selecting remodeling finishes
Exercises in Interior and Exterior color selections
A step-by-step guide to performing a color consultation
One Interior and one Exterior hands-on color consultation
A trip to the local Sherwin-Williams paint store
Business & Marketing
"This course is so valuable! I cannot imagine not having taken this course prior to giving color consultations. I think color training should be required for anyone recommending colors in any capacity."  Kim Galloway, Color Trainee
It's a full and exhausting three days.  You will definitely get your money's worth!
"Your explanation of the new Sherwin-Williams fan deck is brilliant!"  Kristi Steed, Color Consultant
What you will receive:
A manual including all teaching materials
Color wheel
Sherwin-Williams fan deck & stain charts (upon arrival) & architectural kit (shipped after class)
Sherwin-Williams large color sample starter kit
Files & forms
Business start-up guide
A certification badge to be used on your website and marketing materials
The 3-Day Color Certification Course is offered at $1,795 ($900 deposit)
Balance is due one week before class begins.
Do you have more questions?  Then please give Patsy a call at 770-843-2307.  She can also be reached by the contact form on this site.