Speaking of Sea Salt…..
A few weeks ago I received this email:
Patsy, after reading blog after blog with people raving about BM Revere Pewter, I decided I would paint my entry, family room and the two short hallways in my little ranch home. I hired a painter for this Saturday. Then I opened my little sample can and painted swaths of this color in various places. Mud. Ugh. It isn't bad when bright daylight is streaming in but when the lights come on I can't stand it. I'm wondering if the sample is flat paint because I don't see any sheen, nor LRV – just flat. So now I am looking at gray with some color in it, like Silver Sage/Gray Wisp, or Sea Salt, or Valspar's Pale Linen. Trouble is, monitors are not accurate, and then I read some blogger say that she LOVES Sea Salt but you surely would not want it in an entire house.
Excuse me???  Says who?
When I emailed back I was quick to tell Ellen that almost my entire home is painted in Sherwin-Williams' Sea Salt.  No kidding.  Here you can see it in my living room/dining areas: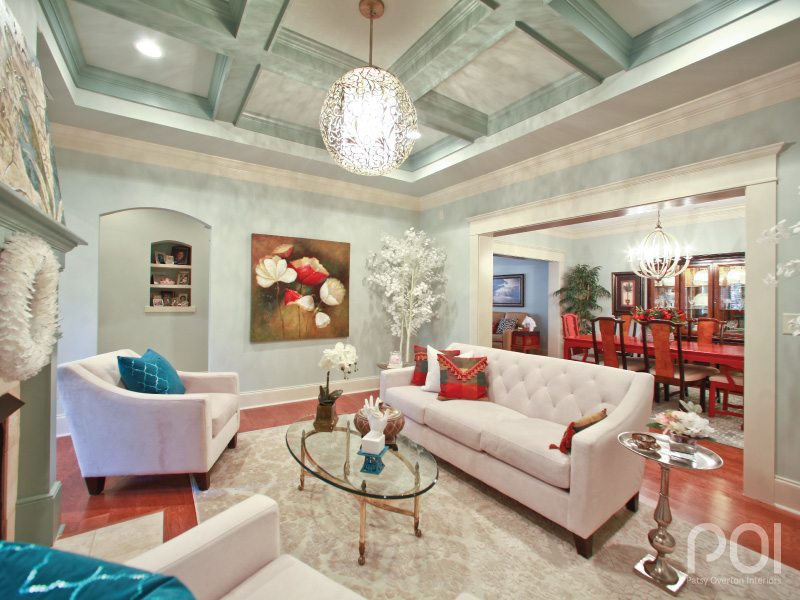 Want to know why I did it?
Four years ago my husband and I sold the two-story home we had raised our son in and moved into a condo.  My plan was to repaint the icky beige walls varying shades of gray, but there was a problem.
The condo came with beautiful plantation shutters, which I had always wanted but never had.  I was ecstatic.  All the trim in the house was painted to match the shutters.  Both trim and plantation shutters were not a clean white, but VERY CREAMY as shown in the photo above.  So what's the problem?
Grays work best with clean white, not creamy white.
I wasn't about to have all the trim and plantation shutters repainted, so what did I do?  I jumped to a color.  Which color did I land on?  Sea Salt SW 6204.
I was in love.
All the main open spaces in my home are painted Sea Salt, while my office and bedrooms are painted one shade darker — Comfort Gray SW 6205.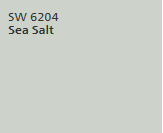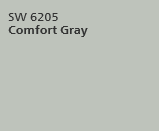 Notice how the colors look so much more gray above than they do in the photos?  One reason is the creamy trim makes the hues read much brighter.  There are other reasons, but you will have to attend color class to hear them 🙂
So is there anyone else out there who has gone hog wild over Sea Salt?
Yes.  The first two are Amy & Bill in Alpharetta.  I did an exterior color consultation for them last year.  To date, their transformation is one of my favorites.  They called on me again this year to help with the interior.
Their home seemed to have the same problems as my condo — creamy trim which they were not going to repaint and an icky beige that needed updating.  We looked at several different neutrals but weren't finding anything that worked well.  As we were all beginning to get a little frustrated, I told them I had another idea.  "How would you feel about using a color overall instead of a neutral?"  They were willing to take a look.
I whipped out my large color samples of several gray/blue/greens for consideration, but when I pulled out Sea Salt their eyes lit up.  They loved it!  Here are a couple of shots of their LARGE home that has now been converted to Sea Salt.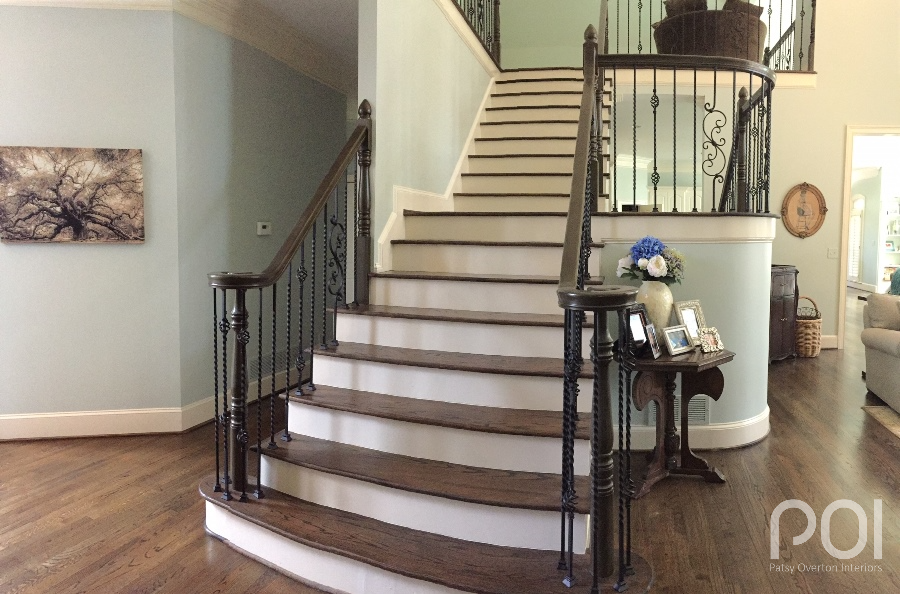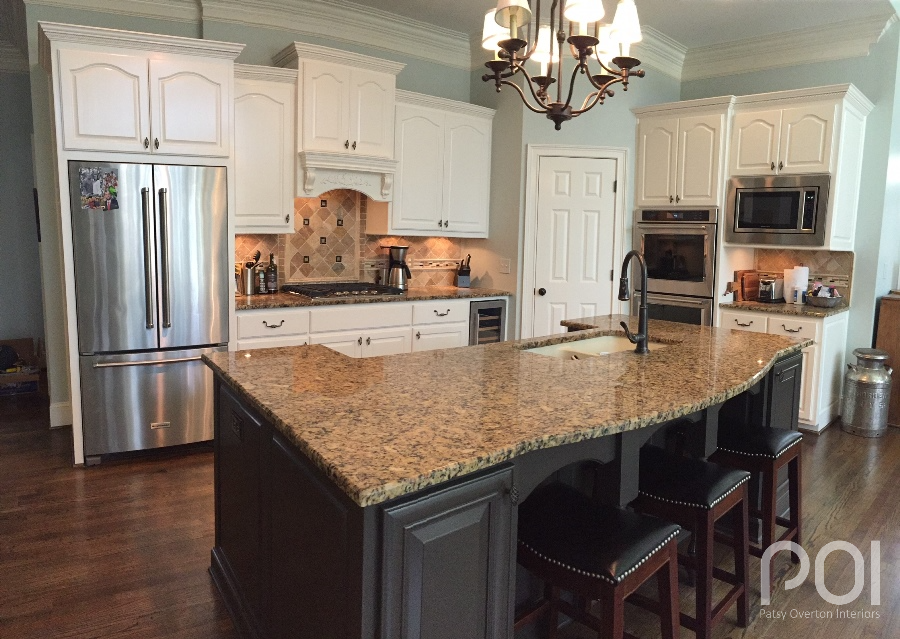 After the painting was done, Amy had this to say….  "I was not 100% sure about this color, but it is absolutely stunning!"  I think so too, Amy.  I certainly love it in my home!
And there are others who have jumped on the Sea Salt bandwagon — like Melissa in Atlanta.  Here are a few shots of her master bedroom and living room, both painted Sea Salt.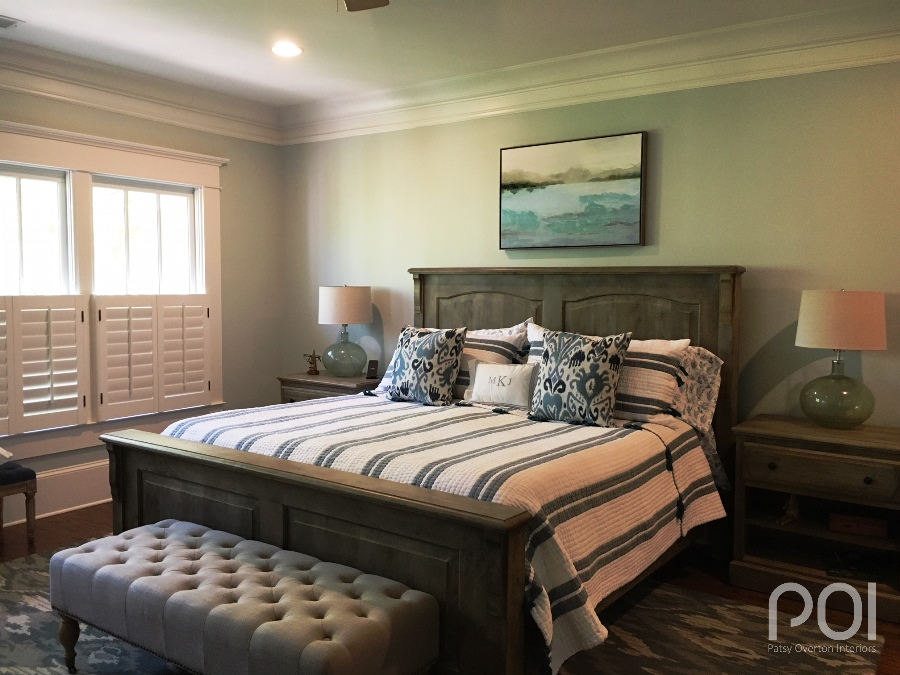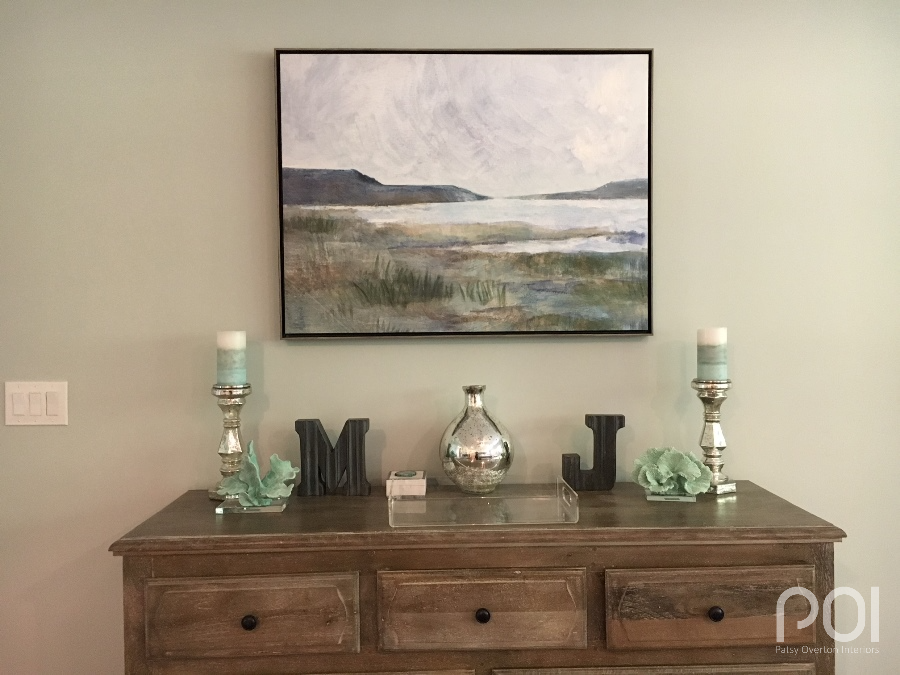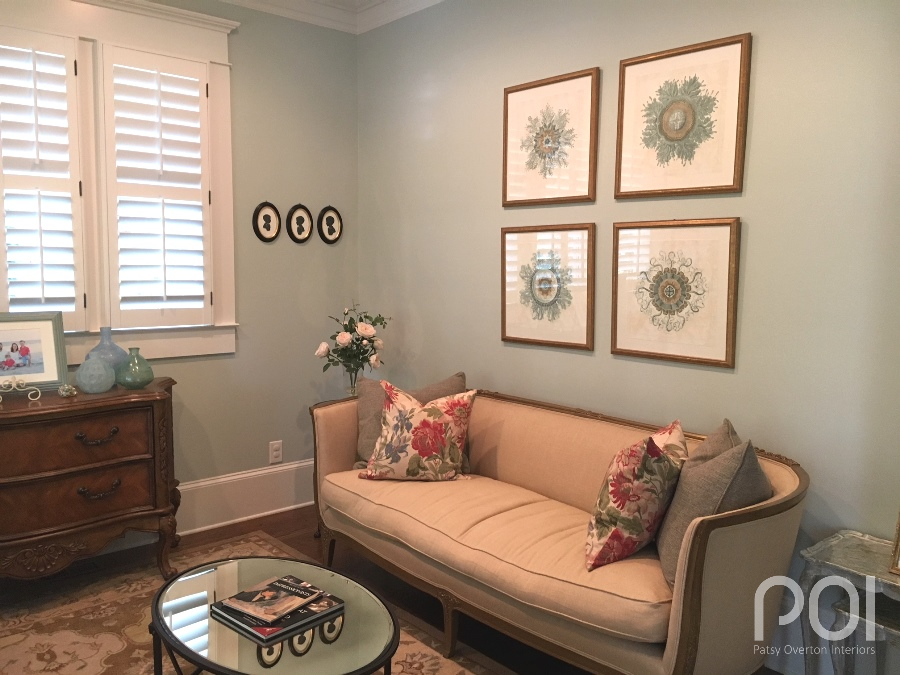 So, what do you think of Sea Salt?  I must say, this is one of those colors that everyone seems to love.  Amy, Bill and Melissa aren't my only clients who have used it — there are many others.
It was four years ago that I painted my condo Sea Salt and I haven't tired of it one bit.  It still makes me happy.
If you are tired of neutrals and are looking for a color that will put a smile on your face, give it a try.  After all — everybody loves Sea Salt : )