What does it take to sell a home in today's market?  If you are about to list your home, you need an answer to that question.
When I first started my business in 2007, it was a home staging business.  I had just gotten a real estate license, but quickly realized what I really wanted to do was stage homes.  I went through a certification course, then hung out my shingle for Stage, Show & Sell Home Staging Company.  Even though I do very little staging these days, those are my roots and I find it behooves me to stay up on the real estate market and have a good sense of what must be done to sell a house — especially since many of my color clients are listing their homes.
The game has changed considerably since 2007.  In those days all you needed to do was declutter and repaint, then price the home accordingly if other work needed to be done.  Thanks to HGTV, Houzz and Pinterest, this is not the case today.  In 2018 everyone wants "move in ready."
I have a great friend, Sheryl Wallace, who has been in real estate for over 15 years.  She knows the market and is fully acquainted with the selling game.  Last fall she and her husband listed their Alpharetta home.  Here is what happened:
Initially she decluttered, installed new carpet and painted
She listed the 25 year old home at $485,000
After little activity, she had one offer for $475,000.  That wasn't good enough.
She yanked it off the market and updated the kitchen and master bathroom to the tune of $35,000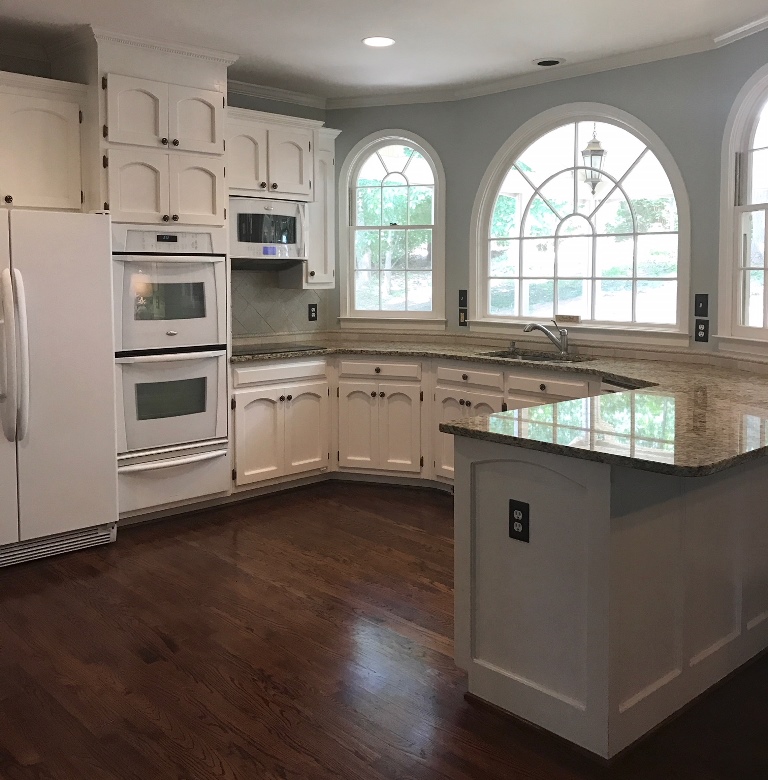 Sheryl's kitchen before updating (above) had granite counters with an old backsplash and no stainless steel appliances.  Buyers were not impressed.  Shown below is the updated kitchen.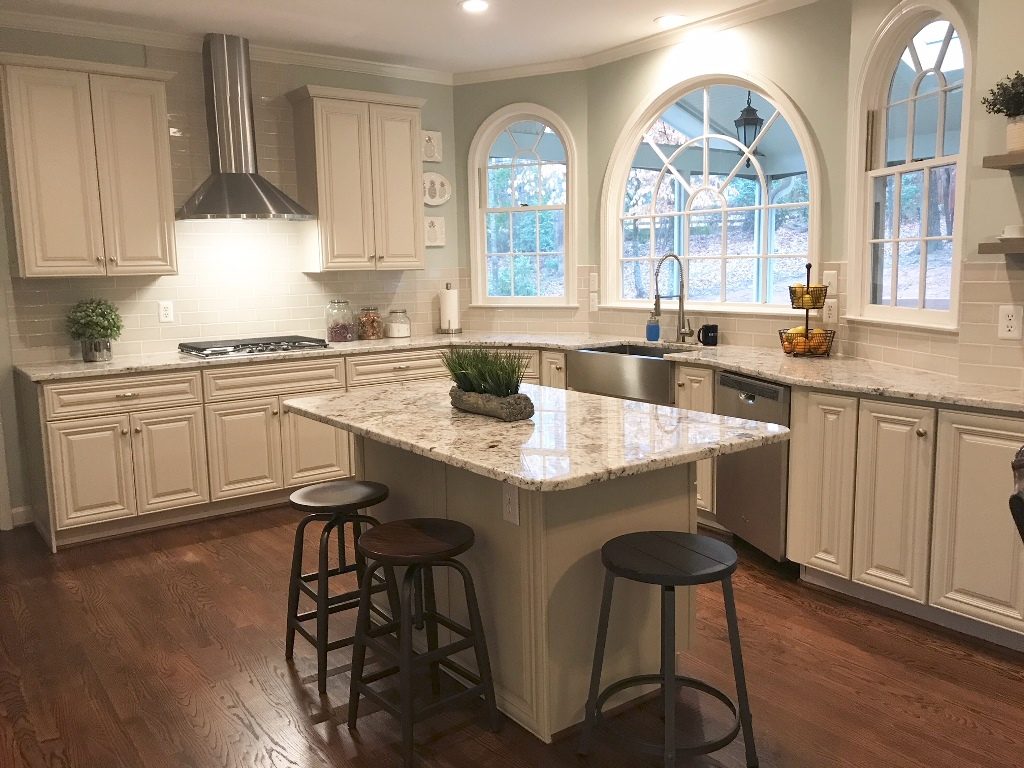 So what were the updates?
A redesigned space which allowed for a center island and additional cabinets on the side wall
Quartz counters  (Yes, everyone today wants quartz, not granite.)
Subway tile backsplash
A focal point stainless hood
Other stainless appliances and a farmhouse sink
Here is the "before" shot of the side wall: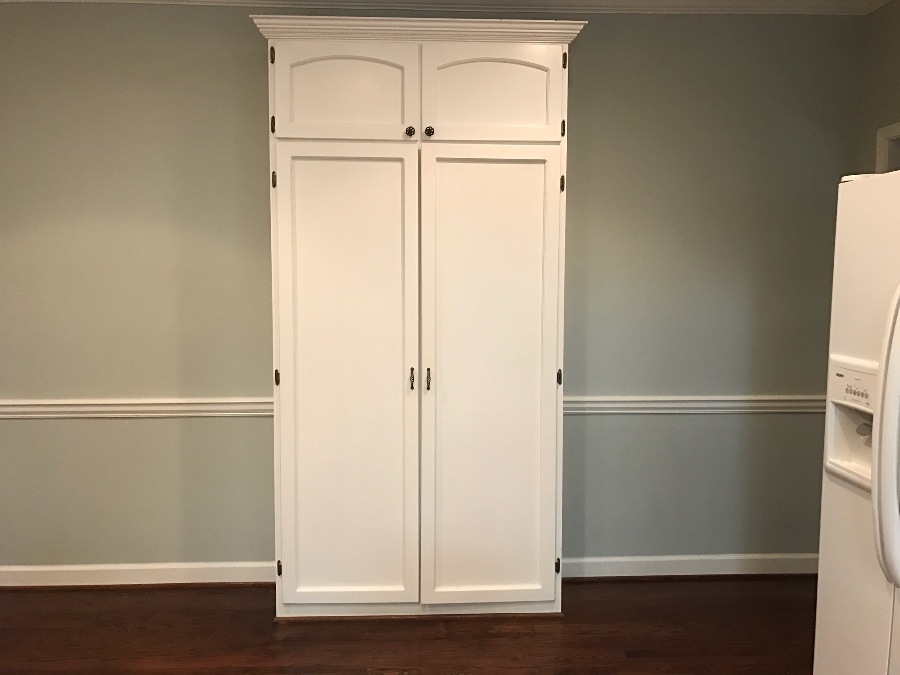 And the "after" showing a new wall of much needed cabinets with the new appliances: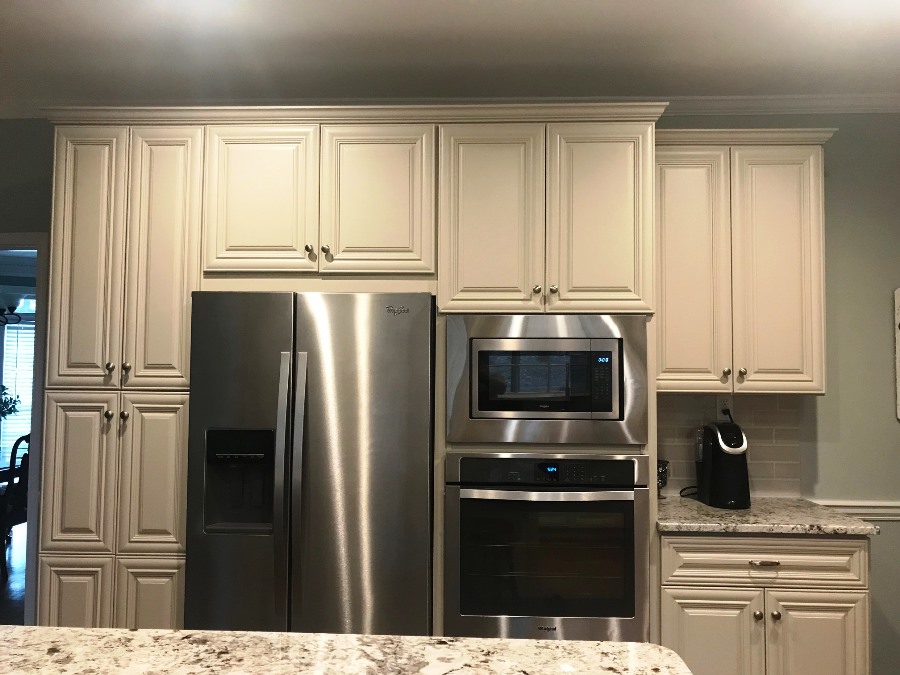 In addition, I got a text from Sheryl at the last minute for a front door color.  (What are friends for?)  I told her to paint it Riverway, SW 6222.  Here it is just before listing: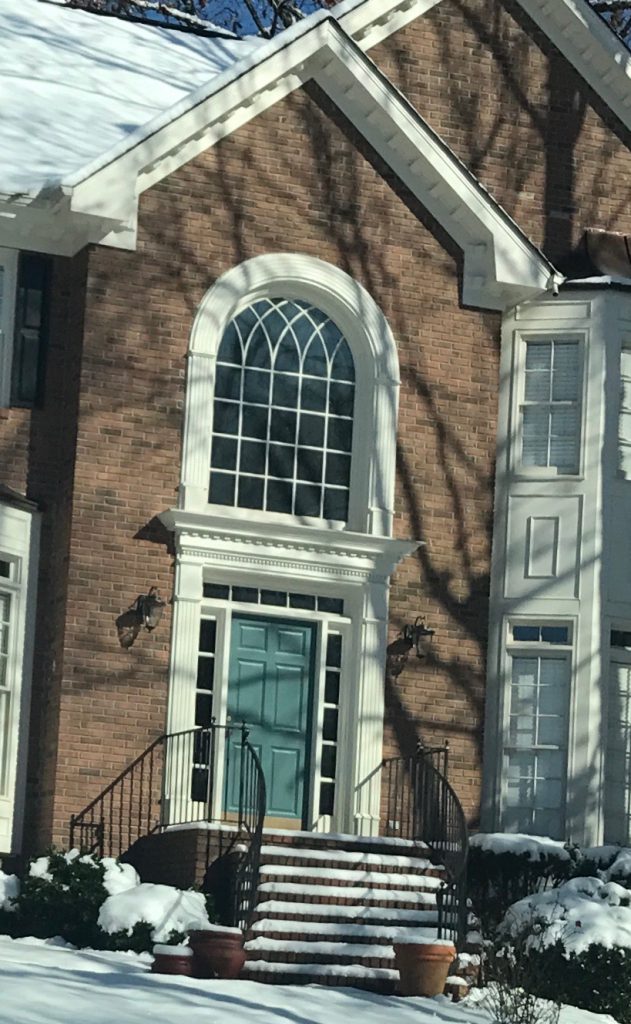 So, after all those changes and $35,000 spent, you might be wondering what happened.  She put it back on the market at $535,000 and had lots of activity.  After a couple of weeks of showings, she received three offers in one day!  The house is now under contract at full price.  It also recently appraised at full price.
Sheryl's comment?  "Today people have more money than time.  Everyone wants 'move in ready.'  If yours is not, be prepared to accept a low-ball offer, if you receive one at all."
Ouch!
Here are more tips from Sheryl:
It is not enough to lower the price based on current condition.  It is a MUST to upgrade your kitchen and master bath.
In the master bath, you can make some changes efficiently by raising your countertops instead of replacing them.
Changing out old hardware is a MUST.  (She changed hers from a shiny brass to antique brass.  The correct finish for your home should be based on the look and feel of the home.  Brushed nickel is NOT the answer for every home.)
Always include updated lighting with LED lights.
Color is everything!  Make sure your walls are inviting whether done in cool or warm hues.
You do not necessarily need expensive new carpet if yours is in good shape and is a pleasing neutral.  Just have it cleaned.
In secondary bathrooms, re-grout and resurface your current tub/shower.  You do not need to remodel them.
Have your house professionally cleaned from top to bottom including mirrors, window seals, window blinds and baseboards.  Also, have all windows cleaned both inside and out.
Paint the front door for maximum curb appeal.
So, what's the moral of the story?  The real estate game has changed.  After seeing numerous episodes of Love It Or List It, Property Brothers and Fixer-Upper, everyone today wants "move in ready."  Not only do they want it — they are demanding it.  To get your home sold and for top dollar, bite the bullet on the front end and pay for upgrades.  It may be the only way to move your home.
Need a great real estate agent who has just been through the selling process herself?  Contact Sheryl Wallace with Palmer House Properties.  I recommend her both personally and professionally.  (Did I mention she and her daughter, Shanna, sold our home a few years ago?)  Thanks for sharing your story with us, Sheryl!