"Matt" is one of my favorite decorating clients.  Do you know why?  He keeps hiring me 🙂  Today we'll focus on his lounge makeover.
It was in 2013 that I received my first call from him.  He was in crisis mode.  He said, "I need to have two bedrooms for my children and another for my Au pair furnished and decorated within a month.  Can you help me?"  Aaahhhh…  music to my ears.  Since doing those initial rooms, we have since refurnished and decorated his family room, breakfast room, master bedroom, guest bedroom, lounge, dining room and even his corporate office in an Atlanta high-rise office tower.  Fun!  But today we are focusing on the lounge.
Here is what the room looked like initially: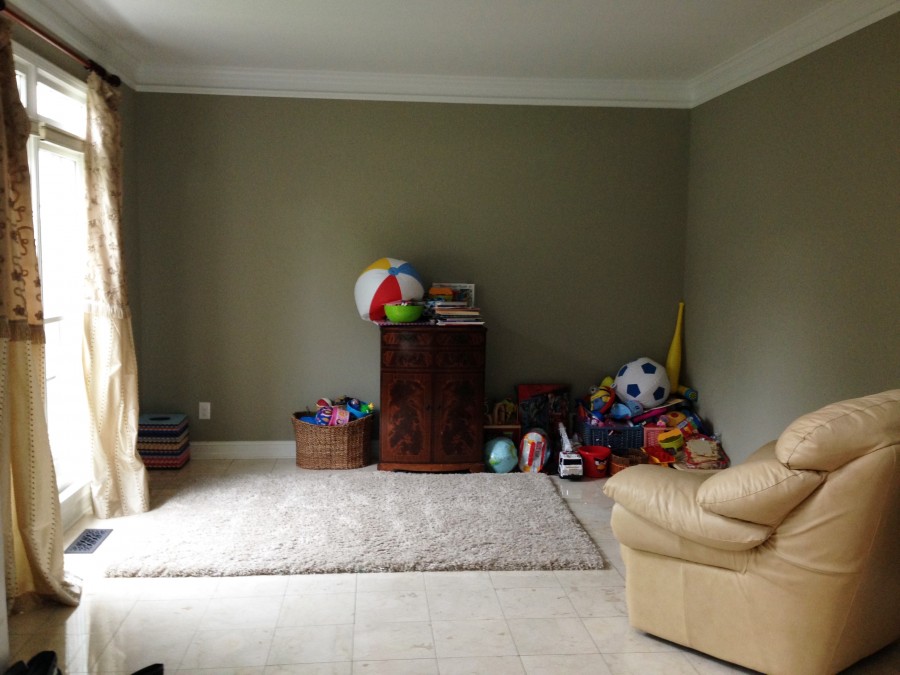 Now do you see why I got the call?  Yes, this was the "catch-all" room for his children's toys.  But Matt wanted a grown-up space where he could have a drink, smoke a cigar or relax with a Grisham novel.  (Hence, we termed it the "lounge" instead of  the more traditional "living room.")
First I measured the space, then we shopped for furniture and a rug.  Once we had a few key pieces with fabrics nailed down, we had the basis for our color palette.  It looked something like this:

The wallpaper was what we had already hung in the dining room opposite the lounge.  Needless to say, whatever we put in this room had to coordinate.  The "orangey" paint color strip was not for wall color, but to represent some of the tones we knew we wanted to incorporate somewhere in the space.  The zebra print was the fabric for two tub chairs.
So we made our purchases, had the large pieces of furniture and new rug delivered, had Bill — my awesome handyman — paint the walls and ceiling and help me hang window treatments and artwork, added a few accessories and, all of a sudden (joke), the lounge makeover was complete.  Ready for the "after"?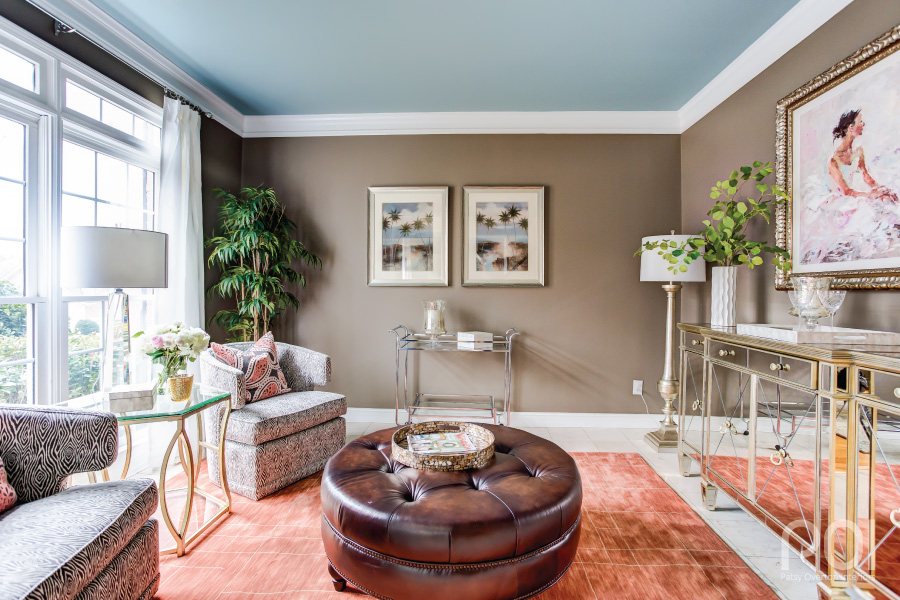 Do you see how we were able to incorporate the coral color without using it on the walls?  The rug was just enough to add warmth without overpowering the space.  We used Virtual Taupe SW7039 on the walls and Interesting Aqua SW 6220 on the ceiling.  And how about that Elena Bond ballerina painting?  Matt and I both fell in love with it the moment we saw it.  Sometimes you never know how your client will respond.  I really wasn't sure if he would take to the palm prints, but he loved them!  A nice surprise.  Here's one more shot of the space: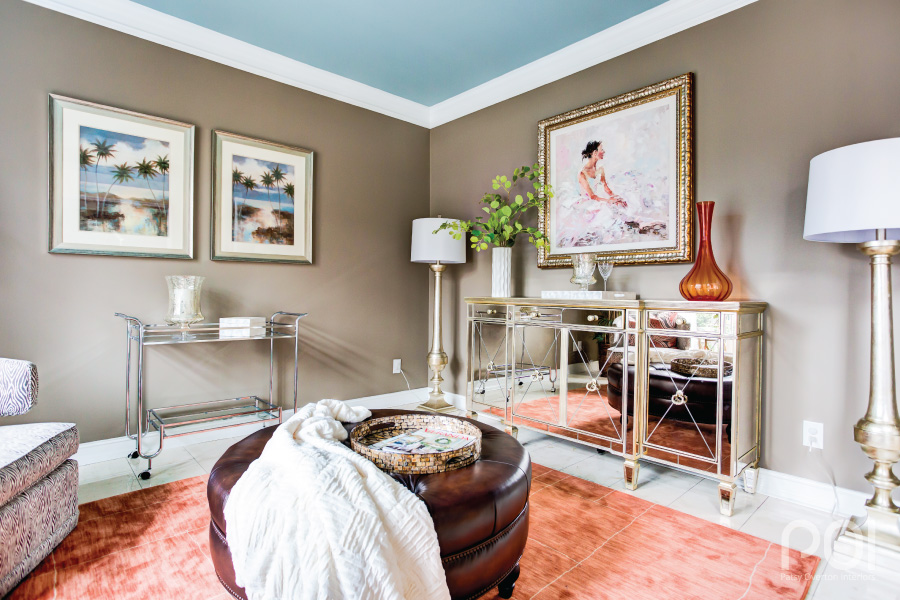 If you would like to see more photos of Matt's home, here is the link.  Just select Decorating – King Valley.
And the best news of all?  Matt is moving!  We will start all over in his new home.  I've already got some ideas.