So you know that everything in home interiors and exteriors is going light, bright and white, right?  It's also going that way on commercial properties.  There is a new bank up the street from my home that is stark white with black accents — totally on trend.
Today I am going to share with you several recent exterior transformations that run with that theme.  Ready?
First, I worked with Bob & Kim in Suwanee.  My friends at Bear Mountain Custom Painting sent me to their home for a color consultation.  Here is what I saw when I arrived: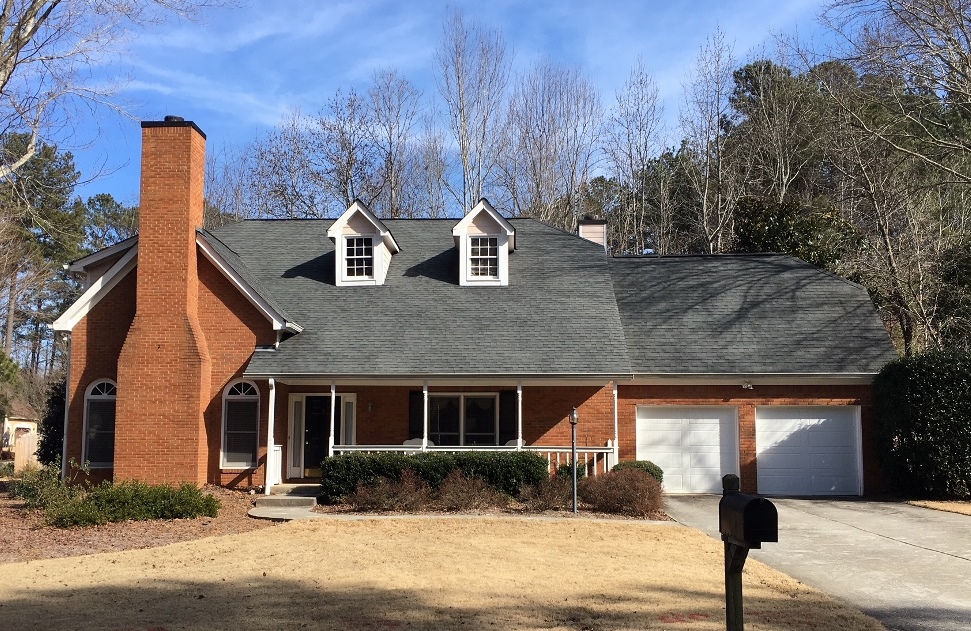 When I was there that day in February, I remember we discussed changing the trim and siding as was stated in the contract.  (This home is brick front only; 3-sides siding.)  If we painted only the trim on the front of the house (with a tiny bit of siding in the dormers), it struck me that the house would  look pretty much the same afterwards.  I recall I turned to them and asked, "Would you consider painting the brick?"  (If they only knew how many times I've used that line!  Haha.)  Guess what?  They were open to it!  We proceeded to discuss color options and finally came up with the following palette:
Brick, Siding & Trim:  Aesthetic White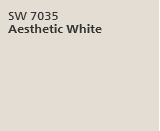 Front Door & Shutters:  Acacia Haze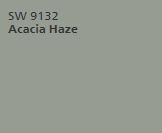 At first we were going with a brighter white, but at the last minute I thought we should soften it a bit to Aesthetic White.  And you may have noticed that the current home doesn't have shutters.  I suggested they purchase board & batten to give them a little more color on the front of the home.  Ready for the after?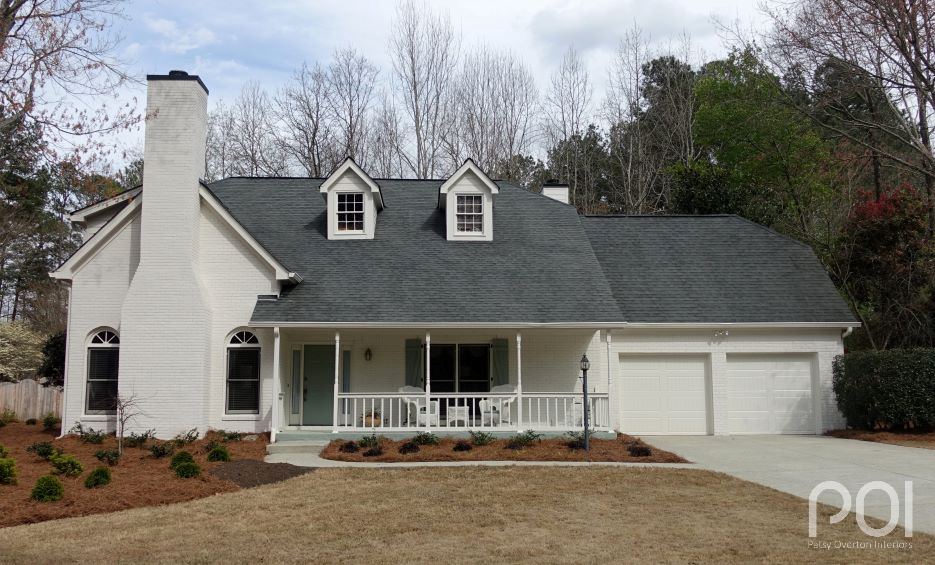 Ahhhhh…….  Love it!  They have a new home — fresh and clean!
Note:  Does the little square of Aesthetic White above look anything like it does on the home?  Of course not!  Beware of trying to pick your colors based on what you see online.
Next, let me tell you about Sharon's home in Alpharetta.  I could write a book on what Sharon and I have done together over the past few months in her home. The short story is that she and her husband put their home on the market a couple of years ago and sold it very quickly. They put everything in storage, moved into an apartment and began looking for a new home.
Fast forward two years — hubby was sick and tired of living in an apartment and basically said, "We've got to buy something." They purchased a nice ranch with plans to completely renovate it. That's when Sharon called me. Here is what I saw when I arrived: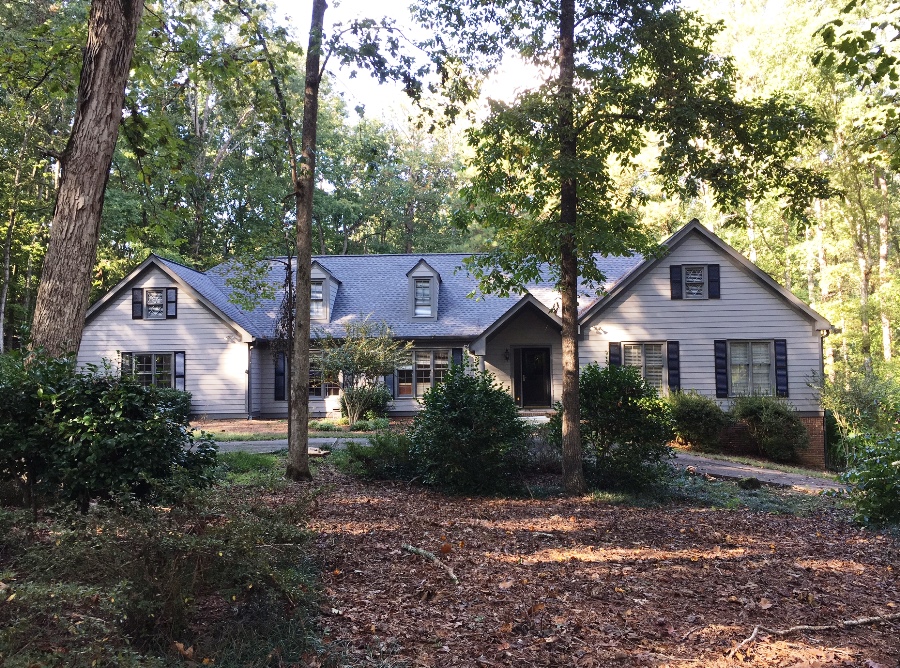 We actually worked on the interior for months and months discussing kitchen layout, counters, hardware, light fixtures, which walls to take out, whether or not to paint the stone fireplace, the layout of the dining/living room spaces, etc.  Finally, once the inside was complete and they had moved into the home, she was ready to turn her attention to the exterior.  She didn't like the "heaviness" of the look they had with the dark trim.  After much deliberation and a few changes in paint color, she decided to go with:
Siding:  Pussywillow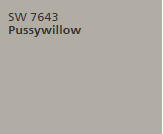 Trim:  Pure White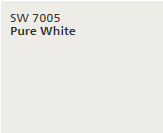 Shutters:  Dovetail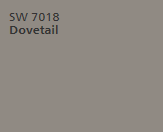 And the after: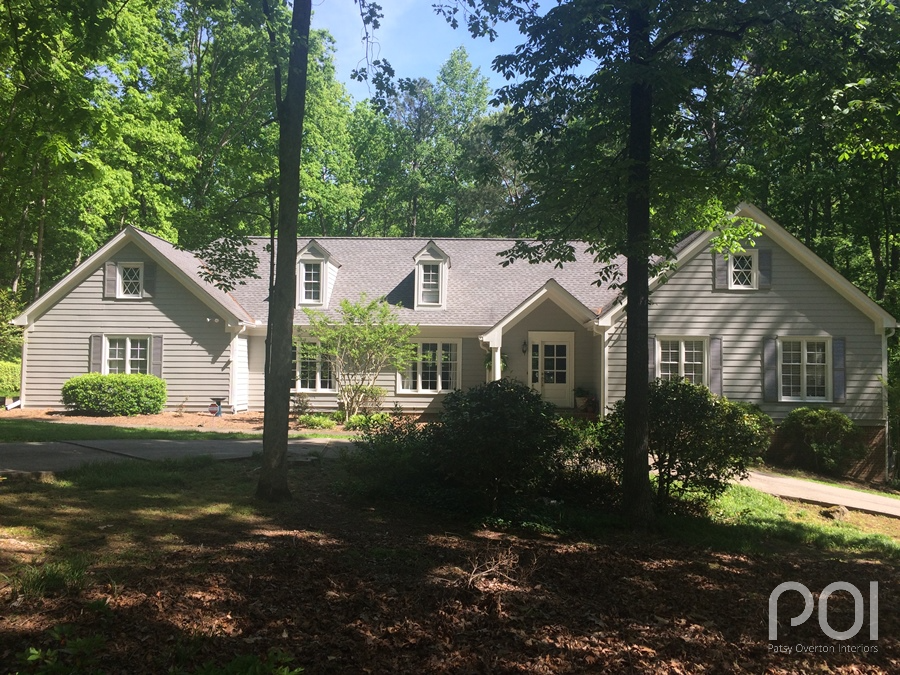 Sharon had this to say.  "I love the exterior paint and shutter colors.  My husband used the word 'elegant' to describe the house.  I think 'fresh' and 'soft' are good terms to describe the new look."  I agree, Sharon.  Going with a lighter trim and shutter color made all the difference.  Well done!
Next, let's take a look at Kim's home in Atlanta.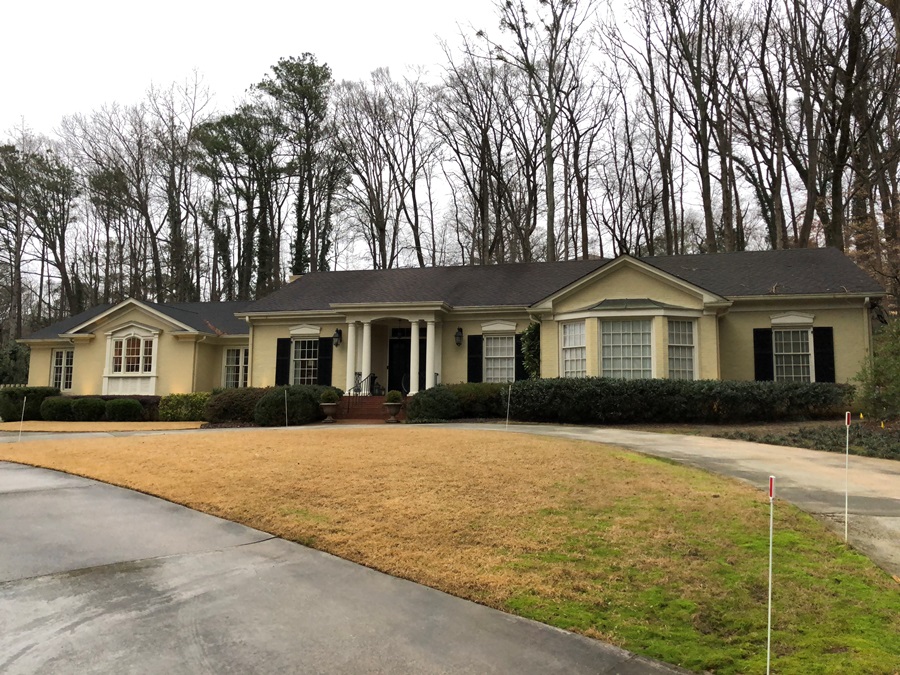 I was sent to her for a color consultation by a local painting company.   When I asked Kim what she wanted to do she replied, "Whatever you tell me to do."  Eek!!!  That's a lot of pressure.
The first thing we did was to select a new roof palette (Pewter), then back-ended into the body color.  As you can see in the photo above, the brick was already painted, but I thought it needed to be updated by going less yellow and more towards white.  (Surprise!)  We decided to go with white-on-white.  Here is our palette:
Body, Trim, Gutters & Downspouts:  Alabaster SW 7008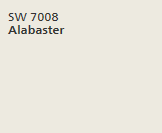 Front Door & Shutters:  Unusual Gray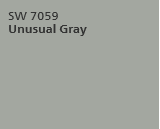 The original plan was to go with Magnetic Gray (one shade lighter than Unusual Gray) on the shutters and front door, but Kim's hubby wanted a little more contrast.  Both the Unusual Gray and Magnetic Gray tied well to the new roof color, which was a gray/blue.  And the after…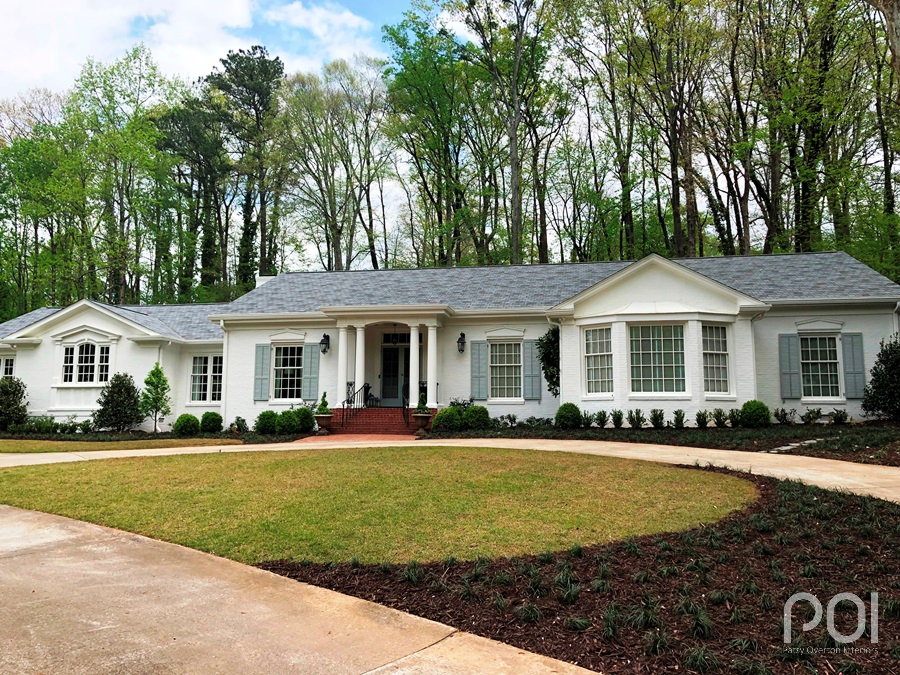 Talk about fresh & clean!  A totally updated look for 2018.  She texted me asking what to paint the metal roof above the bay window.  Normally, it would be painted the same color as the shutters; but, in this case, I thought it would look better in white so as not to compete with the roof since it is in such close proximity.
And now for a different "fresh and clean" look.
Arin called me last June for a color consultation.  She wanted to "lighten and brighten" her dark home.  Here is what it looked like initially: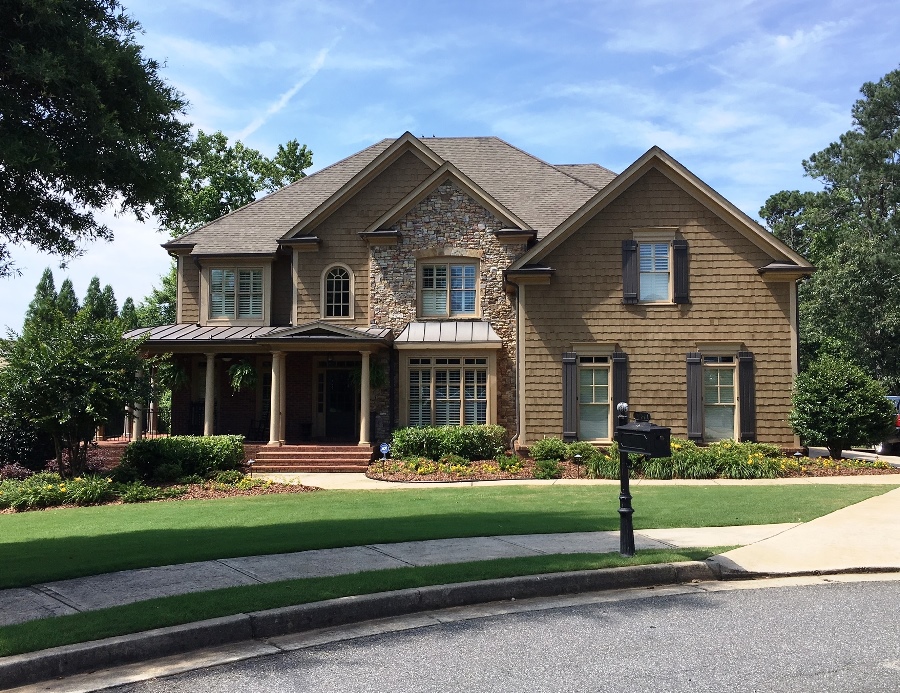 I'm doing more and more of these jobs where homeowners are tired of the "heaviness" of yesterday's look and want to lighten up.  Here we had to be careful to incorporate the brownish roof and the stone, which was not to be painted.  Obviously, the biggest change was going to be in painting the shakes.  Here is what we went with:
Body/Shakes & Trim:  Accessible Beige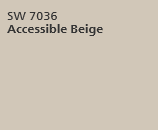 Trim:  Moth Wing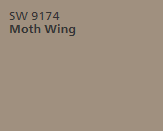 Gutters & Downs, Shutters & Front Door:  Black Fox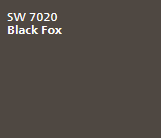 Erin wanted darker accents rather than lighter.  I selected the Black Fox because, while dark, it contains brown which plays well to the roof and other taupe tones.
And the reveal…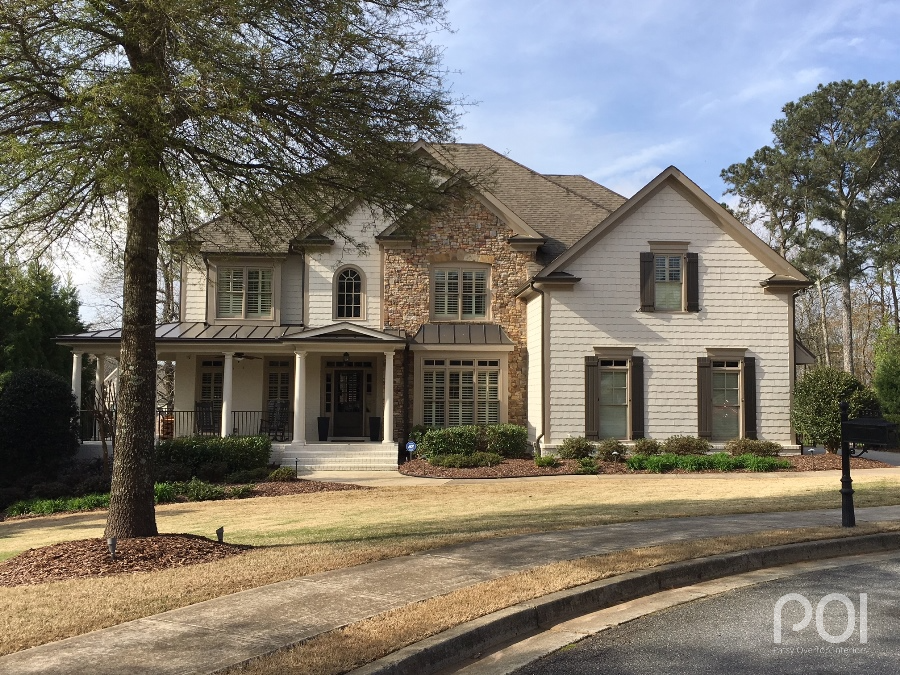 The trick here was to go lighter without being too white.  She still has light, medium and dark tones on the house, but the lighter tones being on the body are much more prominent.  Mission accomplished.
Can you stand one more?  You won't be disappointed if you hang in here with me for yet another painted brick.
I saw Audrey in March.  She wanted to paint her brick.  Needless to say, I wasn't going to argue with her : )  Here is what the house looked like that day: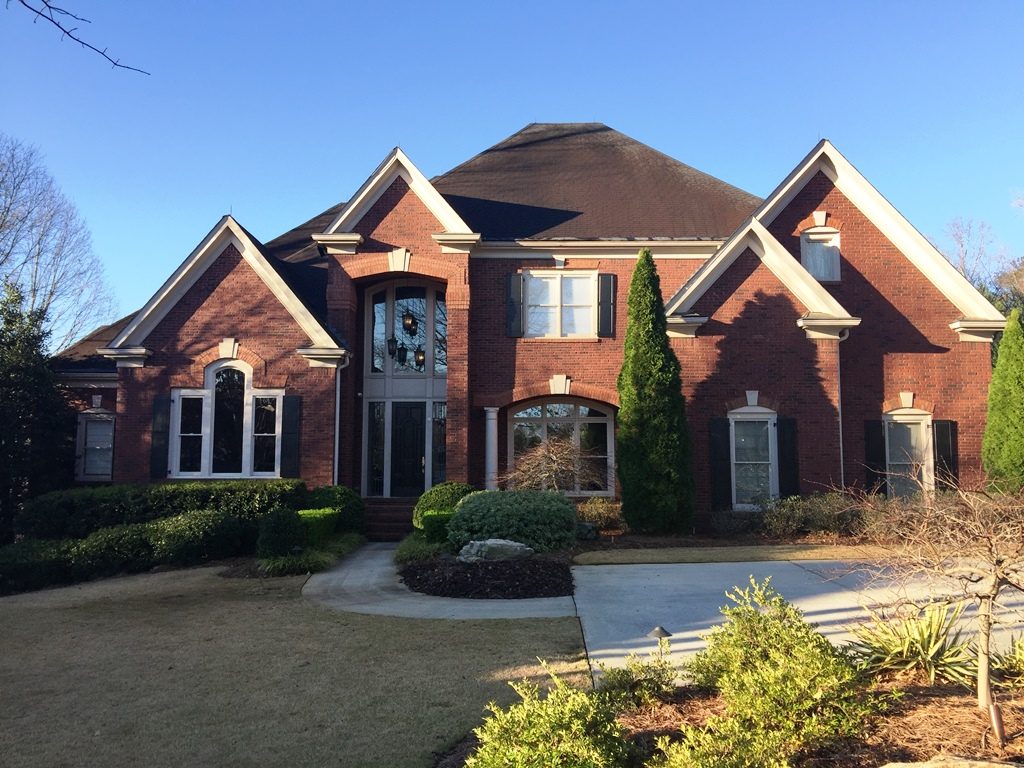 What a pretty home in a lovely subdivision; but, like so many others, it needed a face lift.  As I stated above, if all you do is paint the trim the look will be pretty much the same; but if you paint the brick, you will end up with a new home!  She was going for it.
As in the first house on this blog post, we decided on Aesthetic White for the body.  Here is our color palette:
Body/Brick:  Aesthetic White SW 7035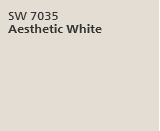 Trim:  Dorian Gray SW 7017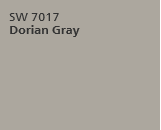 Front Door, Gutters, Downs, Sashes:  Iron Ore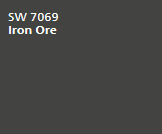 It was after the fact that Audrey decided to paint the window sashes Iron Ore.  I thought that was a great call.  Again, this is something you see all over town these days — white homes with black accents.  Ready to be "wowed"???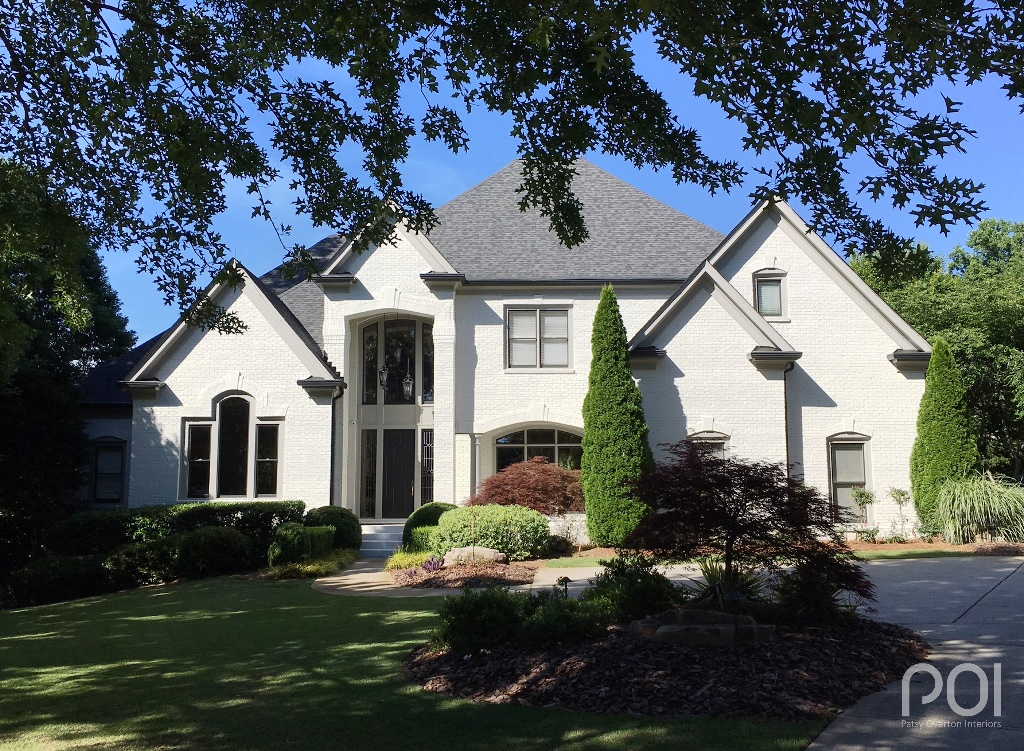 As has already been mentioned, when you paint your brick you end up with a total transformation.  This looks like a completely different home, don't you think?  Painting was done by Dixon Painting.
I hope you have enjoyed seeing these transformations as much as I've enjoyed sharing them with you.  If you want more, take a look here.
As always, I'm here if you need me.  You can use the contact form on my website to schedule a color consultation — either interior or exterior.   Until we paint again…