Is your home known as the Red one?  I didn't think so.  But there are a few out there with that stigma.  It's not for everyone and definitely not for every home, but there are a few situations where it just works.  This happens to be one of them.  Here's the story.
When I pulled up to this house last fall I immediately saw a problem.  Can you tell me what it is?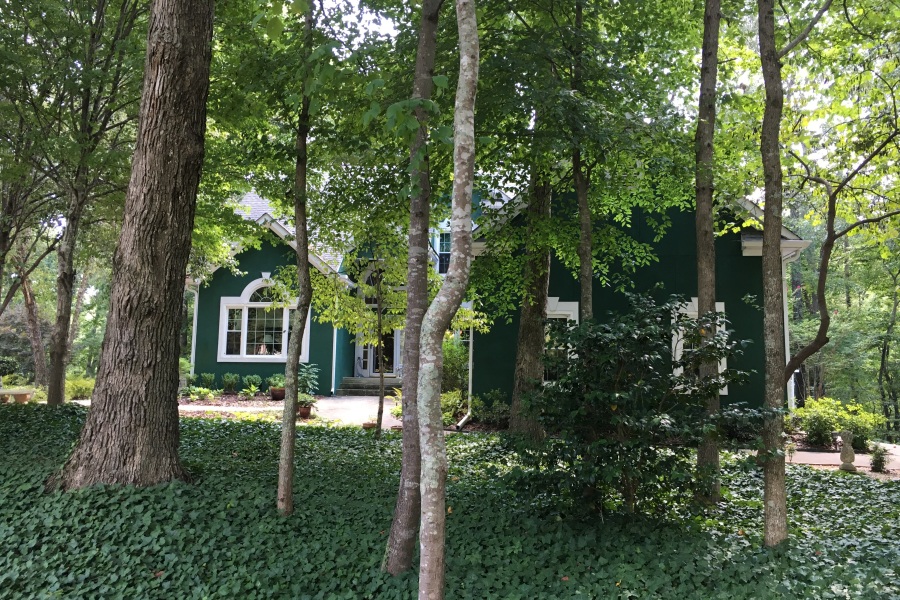 Yep, the house is rather hidden.  Since the house color blends in perfectly with the greens of the foliage, you can't hardly see the structure.  I wondered if one of the homeowners worked for the FBI.  But when I rang the doorbell and met them, I found that was not the case.
Chuck had a kind face and was a bit subdued while Mary Alice had a pinkish hue to her hair and was out there — in a very fun way.  They were both delightful.  I could see immediately she was not afraid of color and realized this was going to be a fun consultation.
We walked into the house where it was reaffirmed to me that they had no fear of color.  The dining room was a bright yellow, the bedroom a deep nautical blue, and they had lots of reds sprinkled around.  When I asked them what they had in mind for the exterior of the home, Mary Alice held up a paint chip and said, "Yellow!"  Wow!  You don't see a yellow house every day, but what Mary Alice wants, Mary Alice gets, or does she?  : )
Let me stop here to say that when I'm doing a color consultation, whether it be inside or out, the FIRST thing I ask the client is what they have in mind.  This is their home and, no matter what I suggest, at the end of the day when they pull into the driveway they have to love what they see.  So if I think taupe would be perfect for their home but they don't like it, I don't try to talk them into it; therefore, we proceeded to look at yellows.
The yellow color chip Mary Alice held up was very bright.  I've already mentioned that her dining room was painted yellow.  When I help the chip up next to her existing dining room color, she could see that the chip was much brighter.  I explained that outside, colors read lighter and brighter in the natural sun light while inside they read darker.  It was time to step outside and look at a few color charts.
We began with toned down yellows and found one she liked and was happy with, but I've learned after years of experience doing color consultations that I need to keep going until the homeowner says, "That's perfect!  I love it."  We hadn't gotten there yet.
I turned to Mary Alice and Chuck (who deferred to her — smart man) and asked, "Would you be willing to do something a little more out of the box?"  (That was a bold statement since we were already considering a yellow house!)  As expected she replied, "Of course."  I asked, "What about red?"  She said, "Show me something."  I pulled out my large color sample of Roycroft Copper Red, SW 2839 and that was all it took.  She said, "I love it!  Let's do it!"  My work was done.  (Tip:  If your color consultant doesn't have large color samples in her tool kit, RUN!  Do not pass Go; do not collect $200.  I couldn't do my job effectively without them.) 
Chuck and Mary Alice were all smiles when I left that day dreaming of living in a red house.  After that, it was just a matter of time before the painting crew from made their way to the house and transformed it.  Ready to see Roycroft Copper Red in action?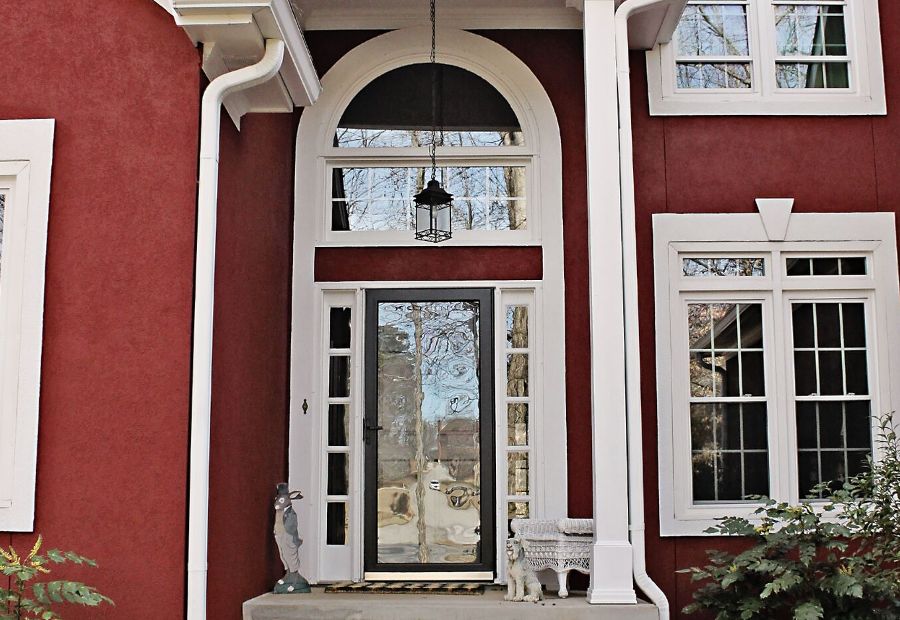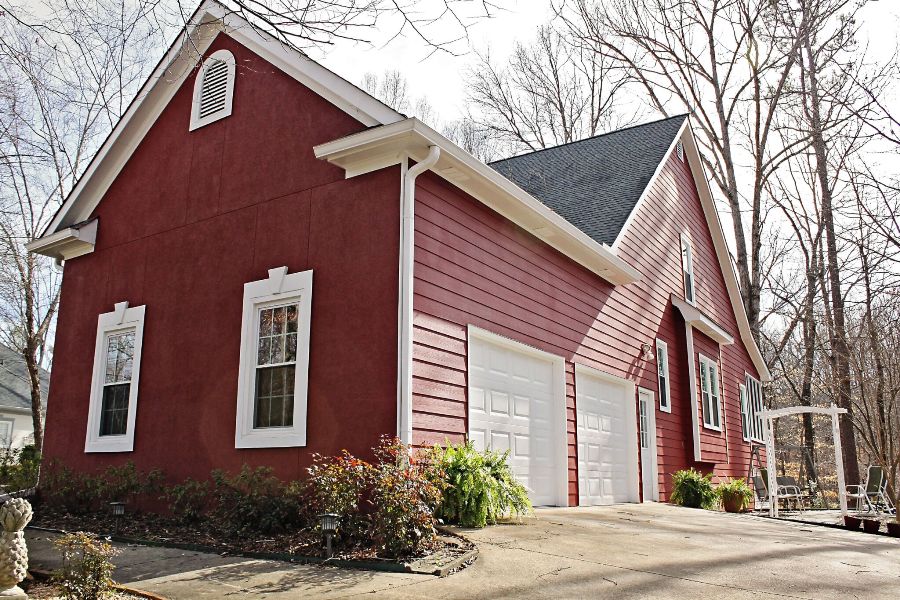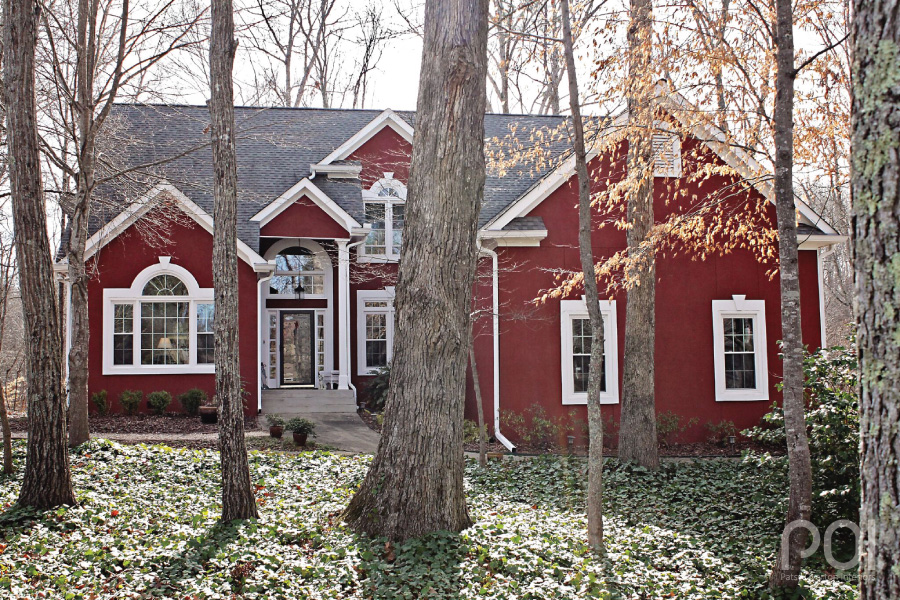 There's no more hiding that house!  Chuck and Mary Alice are now "out there" in full view.  I love this particular red because it is so rich and deep.  Pair it with a clean white (Extra White SW 7006) and stark black (Tricorn Black SW 6258) and you have yourself a classic palette.  If your home is not currently known as "the red one," you may want to consider it.  It's no longer go big or go home; it's go bit AND go home.
Related post:  Painting Your Home Red