According to the students, one of the most valuable things we do in my 3-day Certified Color Consultant training course is to actually go out and perform live, hands-on color consultations — one interior and one exterior.  This is the story of our exterior project.
In March we visited Stephanie and her husband at their Roswell home. Here is what it looked like when we arrived that day: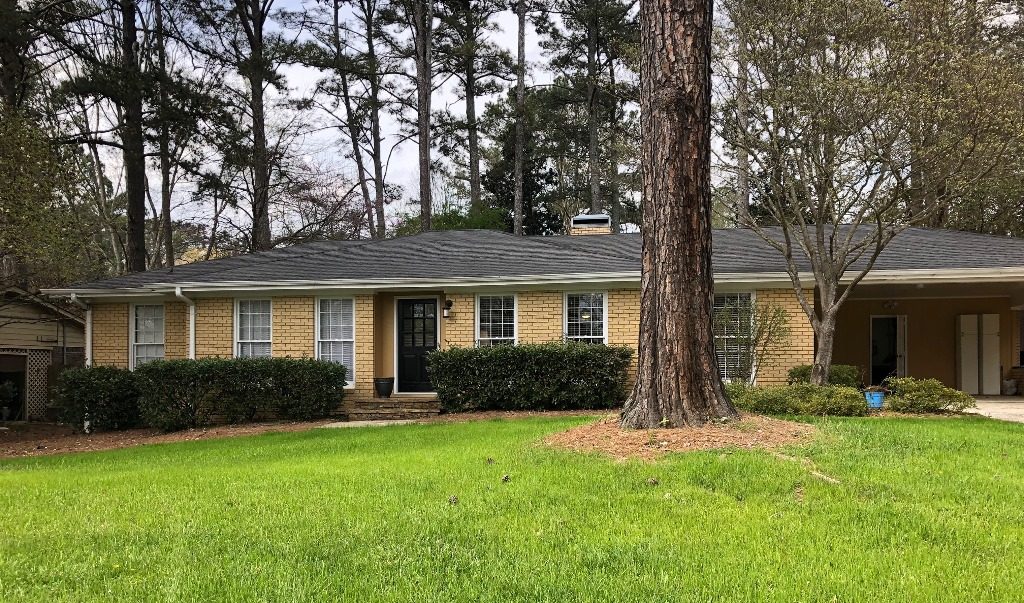 As you can see, they lived in a 60s ranch.  They wanted an updated look, but not white.  So how did we approach finding a new color?
There were two unchanging elements — the charcoal gray roof and the existing white trim.  Fixed elements are always the starting point and help you narrow down the otherwise infinite color possibilities.  Of course, any color will work with white and you can go with either warm or cool tones with charcoal gray, so that didn't help much.  What did help was knowing that they didn't want anything yellowish and they liked taupe.
We pulled out the Sherwin-Williams fan deck and got to work.  Once we identified a few color options, we pulled the large 8 1/2 x 11″ color samples that every color consultant should have in her tool kit.  (By the way — if you come to color class you will receive a "starter kit" of large color samples.)
We decided on Sherwin-Williams Mega Greige for the body of the house.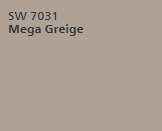 Next, we shopped for a front door color.  Stephanie was quick to point out that all of her neighbors up and down the street had blueish/green or turquoise front doors and she wanted something different.  It's always fun to work with someone who is looking for something a bit out of the ordinary.  It took a little work to find a hue that played well to greige, but we finally settled on Sherwin-Williams Rosedust, a color I had never used before.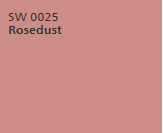 This is a color from the Sherwin-Williams Historic palette, which I'm using more and more.
We wrote up our selections for Stephanie and her husband, hopped in the car and went back to the motel for more color class training.
A month or so later I received an "after" picture from Stephanie.  Ready?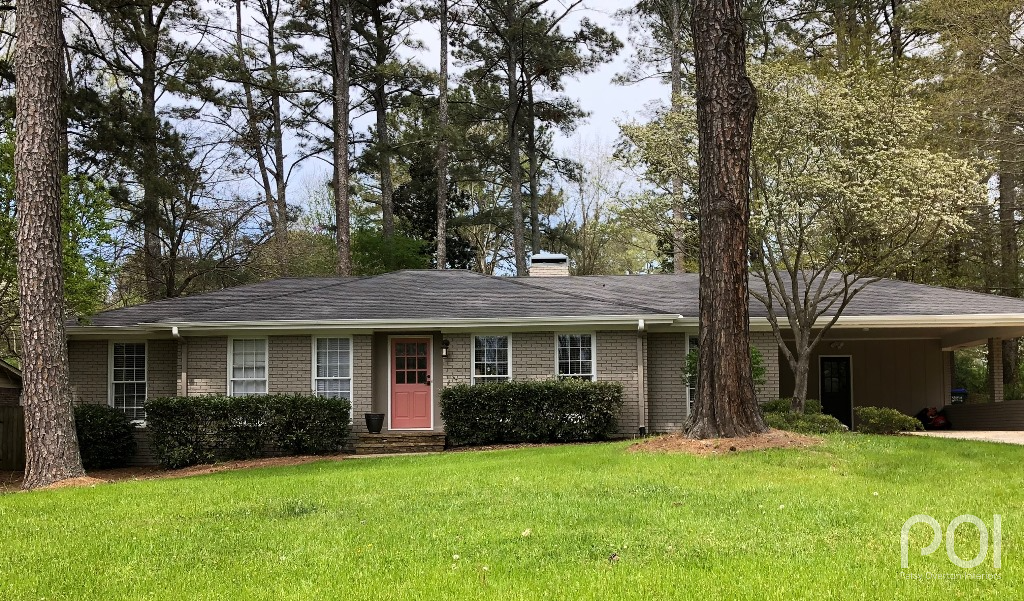 She was very pleased with the results and so am I!  Going from yellow to Mega Greige gave her an updated look and the warmth of the Rosedust  on the front door gave the house a much needed accent.
I want to thank Stephanie for being one of our color class guinea pigs and for sharing her photos with us.  And did I mention my students passed their test and are now Certified Color Consultants?
If you are interested in raising your color IQ and/or working as a professional color consultant, go here for more information and to sign up.  Would love to see you in class!