Painting brick.  Do you have what it takes?
Recently I had the privilege of working with yet another wonderful client who needed help with exterior colors.  (Being an Atlanta color consultant is so much fun!)  This homeowner had just expanded her home and, in the process, realized she couldn't match her existing brick.  What was she to do?  Paint it, of course!  Here is what her home looked like originally:
Dunwoody Home – Before
Dunwoody Home – Before
Isn't that a beautiful, picturesque setting?  When I got there that day most of the structural changes had been made, but Jeannie needed help with the color palette.  Since the brick was going to be painted, the "unchanging elements" of the home we needed to work from were simply the gray roof and warm stone that had been added around the front door.   Jeannie knew she wanted a lighter body with a darker trim.  We decided to go with gray hues that had a slight green undertone.  Here is the palette we decided on that day:
Brick:  Analytical Gray SW7051
Trim:  Adaptive Shade SW7053
Shutters:  Black Alder (a Sherwin-Williams stain)
Ready for the "reveal"?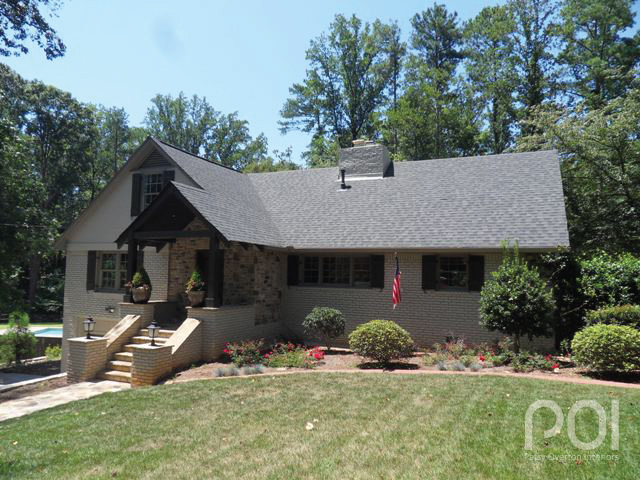 Dunwoody Home – After
Dunwoody Home – After
Isn't that the coziest little cottage you've ever seen?  I love the new stone and build-out at the front door.  The decision was made to paint the garage door the same color as the brick since the homeowner wanted it to disappear.  If you want a garage door to stand out, paint it in a contrasting color.
While it took guts for Jeannie to paint her brick home, the transformation would not have been complete without doing so.  Way to go, Jeannie!  She is now working inside and has already painted her interior fireplace brick, but that's another story for another day.

If you need to update your home, either inside or out, call Patsy at 770-843-2307 to schedule a consultation.  Color never sleeps.