Don't you just love painted brick?  I do.  Know why?  It takes guts.
Late last fall I was called on by a local painting company to do a paint color consultation for one of their customers.  Here is what I saw when I arrived: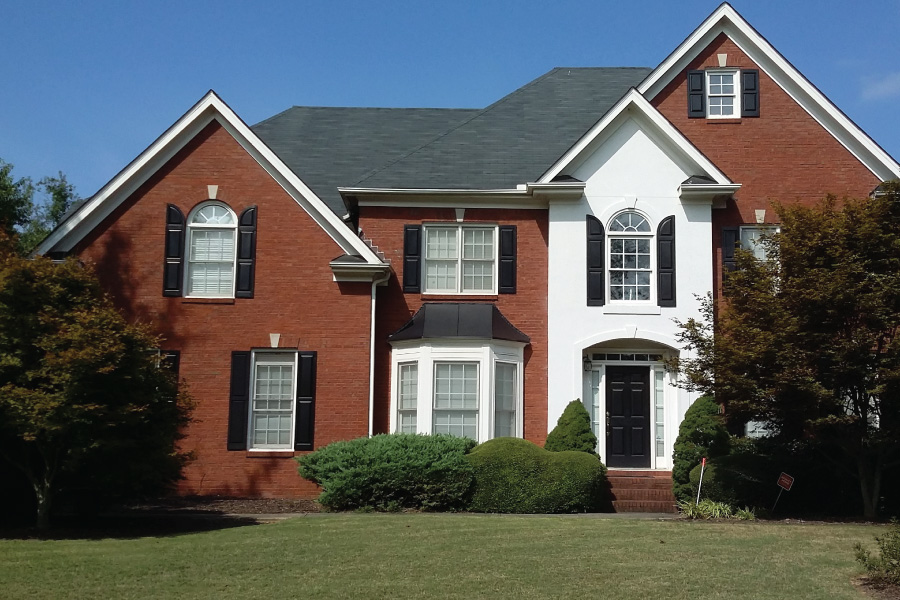 It's your basic red brick home with white trim, black shutters and front door.  The problem?  It was boring.  The homeowners wanted a new look.
When I arrive at a home for an Atlanta paint color consultation, the first order of business is to find out more about what the homeowners are looking for. I am not there to select and dictate colors to them, but to act as their guide; taking them where they want to go and preventing them from making expensive mistakes along the way.  These homeowners knew exactly what they wanted.
They had been in the market for painted brick for some time.  They lived in a subdivision with lots of brick homes mixed with a few stucco exteriors.  This would be the first painted brick home in the neighborhood, and for some reason the HOA was having a bit of a problem with it.  My personal take is this — if the subdivision has nothing but brick homes, I can see not wanting to allow a painted brick, which would be completely different from anything else in the subdivision, in the door; but if the subdivision has both brick and stucco homes, I don't see the problem.  After all, a painted brick home looks a lot like a stucco home, right?
Anyway, these homeowners had done their homework.  They showed me several photos of the look they were going for.  Now it became my job to find the colors.  After doing our due diligence, first with the fan deck and then utilizing my large color samples, we arrived at a palette.  Here it is:
Relaxed Khaki SW 6149 (body & trim)                      Fenland SW 7544 (accents) 
And the "after"?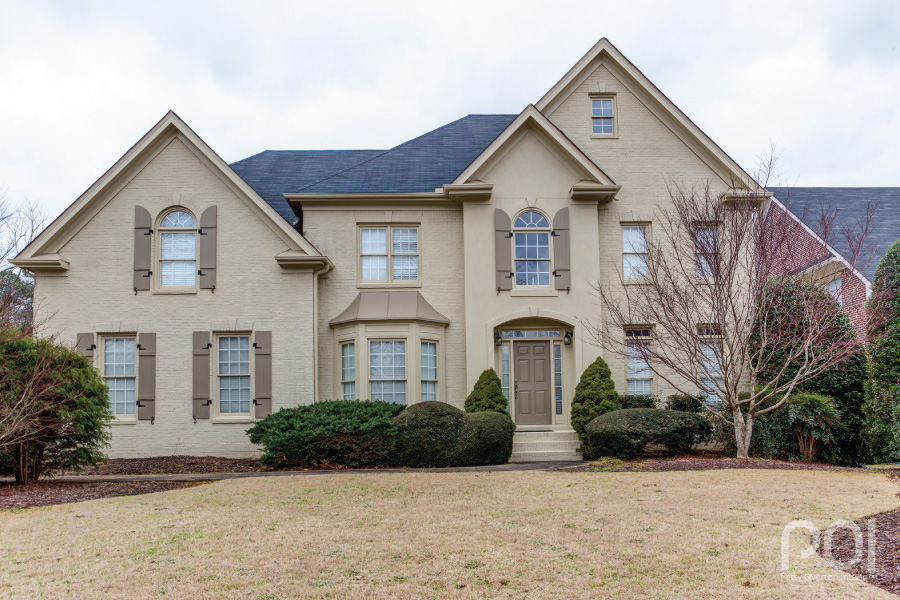 Is that fabulous, or what?  I think painted brick is absolutely STUNNING and I applaud every homeowner who has the guts to go there.  Not everyone does.  Most people I work with want a similar look to what they already have.  That's fine.  Everyone is different.  But for those who are a bit more daring and not bothered by the fact that there is no going back, I'm behind them all the way and will do my best to help them end up with the look they want and one that makes them smile every time they pull into the driveway.
Take, for instance, the woman I saw this morning who wants to paint her neutral stucco home red…….  But that's another story for another day.
Want to paint your brick?  Do you have the guts?