One thing I love about being an Atlanta color consultant is that you meet the nicest people!  Take Sam, for instance.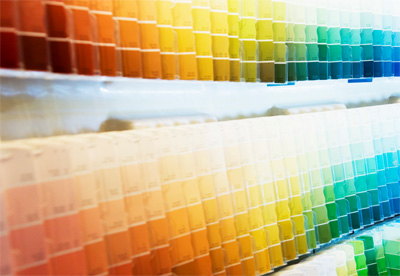 Sam had purchased a house in his own subdivision from neighbors who had fallen on hard times financially.  The plan was to purchase the home at auction on the courthouse steps, freshen it, sell it, then share the gain with the former owners.  Wouldn't we all like to have a neighbor like Sam!
I received a follow-up email from him a few weeks ago.  Here's what he had to say:   "I've been meaning to send you a note and share the wonderful comments I had on the colors you selected for 9020 Etching Overlook in Ammersee Lakes.  The house sold 38 days after listing, even in this horrible market.  The commercial paint contractor whom I hired was totally complementary and said that 'your decorator sold the house.'"

So what did this Atlanta decorator, home stager and color consultant do?  Decorate the home by bringing in lots of accessories to high-light all the great selling features?  No.  Stage the home by bringing in rental furniture to this vacant property?  No, again.  So, what did I do?  I simply performed a color consultation to neutralize the existing hues and high-light key areas of the home to make it more appealing to the masses.  Yes, you heard me — that was it.  I met Sam at the property, walked the home noting the large open spaces, closed off rooms and bedroom suites, and advised him what colors to use throughout the house.
I don't have before and after photos of Sam's home, so I'm going to share with you pictures of another home where the wall colors were neutralized in much the same way.  BTW, this staged home sold in two days!

Living Room – Before

Living Room – After

Dining  Room – Before

Dining Room – After
I don't know about the housing market in your area, but in Atlanta we are still experiencing a record number of foreclosures and have a saturated inventory.  So, can the right paint colors sell a home?  You be the judge.
If you want your home to glow, the colors to flow and the clutter to go, call Patsy Overton Interiors.  770-843-2307  Accredited, Licensed, Insured.
"So many colors, so little time."