Since this Atlanta color consultant frequently doubles as a marriage counselor, I'm wondering if I should charge extra.
Can this marriage be saved?
Over the weekend I received an email that went something like this:  "Patsy, my neighbor referred you for an exterior color consultation.  I need your help to correct the color that's currently on the home.  I don't like it and know it's not the best look for our house, but my husband loves the color.  Would you PLEASE help us with a compromise?"  I had to smile.  Believe it or not, I receive similar requests rather frequently.  (I did two exterior Atlanta color consultations this past Saturday where the husband and wife couldn't agree on the colors!  I'm considering adding "Marriage Counseling" to my list of services.)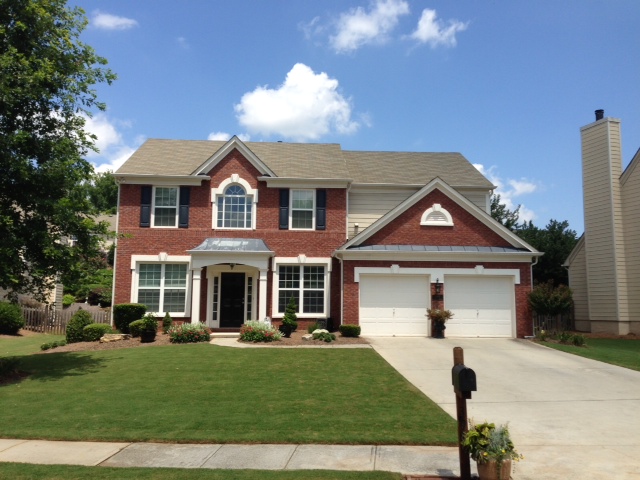 So how do I help save the home and the marriage in one fell swoop?  Here is my secret.  I listen carefully to the wife, not allowing the husband to speak.  Then I listen carefully to the husband, not allowing the wife to speak.  Once they know I have clearly heard both sides, instead of pulling out my whistle and putting on my black & white referee shirt, I proceed with something quite unexpected.  I use the "p" word — process.
Here is my pitch:  "There is a process I take my clients through to discover which color palette would be the best for their home.  May I share it with you?"  Guess what?  They are all ears!  I've found the trick is to listen to both; but, in the end, start over with a process.  Because the process doesn't pit the two of them against each other, they are more than ready to listen.
Want to know what that process is?  Here are the rules that apply when selecting exterior paint colors for your home:
Note your surroundings.  The colors you put on your home should be in keeping with the general "look" of the other homes in the area.  Case in point — this spring I saw a home in a beautiful million dollar subdivision.  The homeowners had just spent BIG BUCKS on massive exterior upgrades with impressive results, but they broke rule #1.  Their home looked like something that would belong on Sea Island rather than the Atlanta country club community they were in.  The look was completely out of place.
Stay true to the architectural detail of the home.  If your home is contemporary, you probably don't want to use "old world" colors.
When selecting exterior colors, always work from the unchanging elements of the home, such as brick and stone.  And please don't forget to take the roof into consideration!
Since most exteriors are in the "neutral" category, you MUST take note of the undertones of those neutrals.  This is crucial.  If you are unaware of how to read undertones, then you may end up with a pink house!
At that point, we begin to rifle through the fan deck to check some possibilities against the brick, stone and mortar.  Next, I pull large color samples (8 1/2″ x 11″) to get a better look.  Once we have the best body color, we move on to the trim and accents.  Piece of cake if you know the process!
So you still don't feel qualified to work within these guidelines?  Great!  What you need is the assistance of a professional Atlanta Color Consultant.  As for the marriage thing, I'll give it my best shot but you'll need to sign a disclaimer, okay?
In closing, I will leave you with my motto:  Friends don't let friends select their own paint colors and wives and husbands should always hire a professional.

Patsy Overton Interiors…  where color never sleeps.